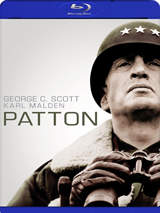 Who doesn't want to see the iconic image of George C. Scott as Patton in front of The American flag across their nice HDTV screens? Fox is preparing a 2-disc Blu-Ray set of Patton coming for Father's Day.
The lengthy film will come spread across a BD-50 disc to give it the best possible picture quality. The only supplements on this disc are an introduction and an audio commentary with Francis Ford Coppola. The second disc – a BD-25 – will contain the documentary The Making of Patton and the featurettes History Through the Lens: Patton: A Rebel Revisited and Patton's Ghost Corps, a photo gallery (accompanied by the complete score) and the Theatrical Trailer.
"Patton" arrives on June 3 with a $39.98 sticker price.