New Line jumps into the game with Semi-Pro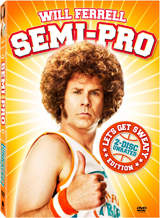 New Line Home Entertainment has revealed plans to unleash the comedy power of Will Ferrell onto DVD and Blu-Ray Disc when Semi-Pro hits home video.
Will Ferrell stars in Semi-Pro, an outrageous comedy set in 1976 against the backdrop of the maverick ABA – a fast-paced, wild and crazy basketball league that rivaled the NBA and made a name for itself with innovations like the three-point shot and slam dunk contest. Ferrell plays Jackie Moon, a one-hit wonder who used the profits from the success of his chart-topping song "Love Me Sexy" to achieve his dream of owning a basketball team. But Moon's franchise, the Flint Michigan Tropics, is the worst team in the league and in danger of folding when the ABA announces its plans to merge with the NBA.
If they want to survive, Jackie and the Tropics must now do the seemingly impossible – win.
The film will come to DVD in a 2-disc set featuring a widescreen presentation of the movie in its original 2.35:1 aspect ratio, complemented by an English Dolby Digital 5.1 EX language track.
The Blu-Ray version will also be a 2-disc release, offering up two BD-50 discs filled with the movie and bonus materials.
Unfortunately New Line has not yet unveiled the exact bonus materials that will be part of this release but we will keep you updated when these details appear.
Look for "Semi-Pro" in stores on June 3.