MTI turns a Blind Eye on DVD in May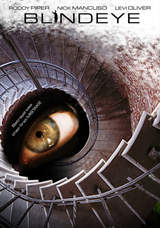 MTI Home Video has added the crime action film Blind Eye to their release line-up for May.
In a small town lives a brotherhood of friends. Nick (Levi Oliver) becomes a "big city" cop with a cavalier style. Jay (Joel Hookey) remains the "small town" cop. Rudy (Phil Babcock) and Tim (Shaun Hood) end up on the wrong side of the legal tracks. When Katherine (Tara Goudreau), Nick's estranged wife, calls Nick needing his help to find their missing daughter, Nick comes home to aid in the investigation and he discovers that there's more to the disappearance than his "friends" are letting on. Soon they discover that betrayal was their first mistake.
Also starring Nick Mancuso and "Rowdy" Roddy Piper, the movie will be presented in its widescreen aspect ratio with Dolby Digital 5.1 audio but sadly no extras will be included.
"Blind Eye" will arrive on May 13 with a $24.95 price tag.