May sees you showered in Mad Money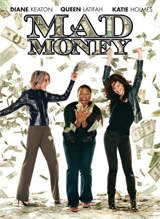 Anchor Bay Entertainment is putting the final touches to the DVD release of the comedy Mad Money that is scheduled for May.
Diane Keaton, Queen Latifah and Katie Holmes are all in for the crime of their lives! Deep inside the most secure bank in America, three desperate women from very different worlds cook up the most unlikely heist of the century: Smuggle out millions of dollars in worn-out currency headed for a Federal Reserve shredder every day. Taking the cash is going to be easy… but getting away with it will be insane! Ted Danson, Christopher McDonald, Roger Cross and Stephen Root co-star in this wild comedy caper about chasing your dreams, beating the system and paying the price for mad money!
Apart from an anamorphic widescreen version of the film with Dolby Digital 5.1 audio, the disc will also contain a Commentary Track by director Callie Khouri, the Behind-The-Scenes Featurette "Makin' money" and the movie's Theatrical Trailer.
"Mad Money" arrives on May 13 with a $29.98 suggested retail price.