John from Cincinnati comes to disc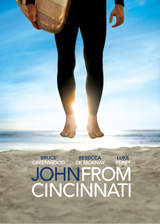 If Deadwood was David Milch's attempt to put Shakespeare on the television screen, John From Cincinnati is his attempt at Brecht. The First Season of the series arrives in April from HBO
Just north of the border, in the tired coastal town of Imperial Beach, CA, live three generations of Yosts: surfing royalty turned society misfits. The Yost's reign and reputation, once defined in the cure of a perfect wave, has been eroded by years of bad luck, addiction and hubris. But just as things are looking like they can't get worse, a stranger named John arrives – and the Yost's banal existence is lifted into something profound, miraculous and, possibly, universal.
Two Audio Commentaries and a Behind-the-scenes Featurette are the only features on the set which will carry all the episodes from the first season.
Stay tuned for an April Fool's Day release of the series, which can be yours for $59.98.