I'm Not There wanders onto DVD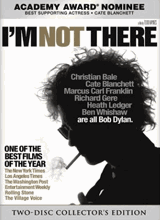 Genius Products and The Weinstein Company are getting a DVD ready for the Bob Dylan quasi-biopic I'm Not There in May.
Inspired by the life and songs of Bob Dylan, "I'm Not There" is "a profoundly personal and passionate film" (A.O. Scott, The New York Times) that captures the essence of this elusive genius. Six different actors – including Heath Ledger, Christian Bale, Richard Gere and Cate Blanchett – each embody part of the Dylan legend: from Greenwich Village folk singer to electric guitar trailblazer to born-again preacher.
The DVD will present the film in anamorphic widescreen with a commentary track, a music video, bloopers and audition tapes. A biography of Bob Dylan is also on the disc.
The suggested retail price will be $28.95 for the disc which arrives on May 6th.