Genius Products celebrates The Mist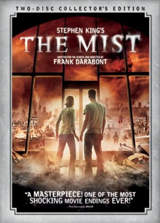 There have been a great many movies based on stories by Stephen King, but it appears as if The Mist is clearly among the better ones.
Adapted for the screen, and directed by Frank Darabont, who has previously crafted some of King's best adaptations with "The Shawshank Redemption and "The Green Mile," this film tells the story of a mysterious mist, thick with blood-thirsty creatures, as it descends on a small town, where a group of people holes up in a grocery store to fight for their lives.
To celebrate the DVD release of the title next week, Genius Products has created a special give-away where you can win a copy of the DVD as well as copies of other Stephen King movies. Feel free to visit The Mist Giveaway Website to enter the contest. Good luck!