Genius Products brings us The Great Debaters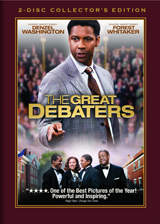 Genius Products has just announced two DVD versions of The Great Debaters, scheduled for release in May.
Starring and directed by Denzel Washington, this is drama based on the true story of Melvin B. Tolson, a professor at Wiley College Texas. In 1935, he inspired students to form the school's first debate team, which went on to challenge Harvard in the national championship.
Genius Products will offer a single-disc DVD without extras for sale, as well as a 2-disc Collector's Edition filled with bonus materials. Sadly the studio has not yet revealed what these bonus materials will be, but we will keep you posted as more information comes in.
"The Great Debaters" will arrive in stores on May 13 for $29.98 and $32.96 respectively.