FUNimation highlights Shinobi on Blu-Ray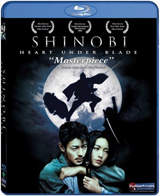 Mostly recognized for their quality anime fare, FUNimation also has a few live action movies in their catalog, including the wonderful Japanese fantasy movie Shinobi: Heart Under Blade. The film is currently in production for a Blu-Ray Disc release in May.
The year is 1614. Japan has been united under the Tokugawa Shoguns and the land is beginning to feel at peace. Two remote ninja clans, the Koga and the Iga, are ancient enemies but have long been bound by a peace agreement forbidding them to fight. The heirs to the leadership of both clans have fallen in love, but a tragic fate awaits them. A cruel plot is set by the Shogun to wipe these two clans from existence by breaking the peace agreement and forcing the two clans to battle. Five Ninjas of each of the Koga and Iga clans will battle against each other to the death. As a great war begins, it brings the two young heirs together again. But this time as enemies.
This sweeping tale of love and hate will arrive with a 1080p widescreen transfer on Blu-Ray, complete with Dolby Digital audio tracks in English and Japanese. Expect to see all of the DVD bonus materials on the Blu-Ray disc as well, including the Featurettes and Storyboard Collection.
"Shinobi: Heart Under Blade" will make its furious high def debut on May 13 and can be yours for $29.98.