Frank Sinatra impresses in The Man With The Golden Arm in May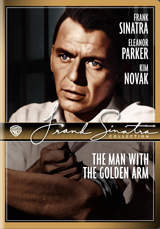 The Man With The Golden Arm, starring Frank Sinatra, is one of the latest additions to Warner Home Video's DVD line-up, scheduled to appear in front of audiences in late May.
Frank Sinatra gives a searing, Oscar-nominated performance in this movie as an aspiring drummer struggling to break free of his drug habit. The film is a true Hollywood landmark, directed by Otto Preminger.
Featuring an anamorphic widescreen transfer of the film, the DVD will also include the movie's original trailer as an extra.
"The Man With The Golden Arm" arrives on May 13 with a $12.97 suggested retail price.