Fox serves up a Mannequin Double Feature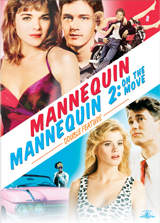 20th Century Fox Home Entertainment has added a Double Feature DVD to their release line-up in April, giving you a great way to re-experience Mannequin and Mannequin 2: On The Move.
In "Mannequin," Jonathan Switcher created the perfect woman, Emmy, who in a previous life was an ancient Egyptian who lived in the year 2514BC, and now comes to life as a mannequin. She is the perfect girlfriend: pretty and poised, with a perpetual smile — and she never talks back. Sure, she's a department store dummy, but Jonathan doesn't seem to mind.
In the movie's sequel, "Mannequin 2: On The Move," Jason Williamson who, in a past life, was the prince of the kingdom of Hauptmann-Koenig and lost his beloved Jessie when an evil sorcerer turned her into a wooden icon.? When Prince & Company uses her as a mannequin in their window display, Jason awakens her and the two get re-acquainted, having a millennium of things to catch up on. But the evil sorcerer, now reincarnated as Count Spretzle, arrives to take Jessie back, with Jason the only one who can stop him.
This Double Feature DVD will not contain any extras but will arrive in stores on April 15 for a very affordable $14.98.