First Sunday comes on a Tuesday in May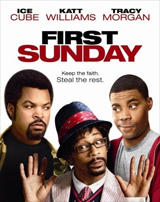 Sony Pictures Home Entertainment has announced the release of First Sunday on DVD and Blu-Ray Disc in May.
Ice Cube and Tracy Morgan are two thieves who haven't got a prayer in "First Sunday", a sinfully, funny comedy co-starring Katt Williams and Chi McBride. Sentenced to 5,000 hours of community service, Durell Jefferson's (Ice Cube) life quickly goes from bad to worse. Realizing that the Lord helps those who help themselves, he eventually decides to help himself to the neighborhood church's building fund. Accompanied by his dimwitted partner-in-crime LeeJohn (Tracy Morgan), the two down-on-their-luck men are dismayed to discover the cash has already been stolen, so they hold the congregation hostage in a Hail Mary attempt to learn who amongst the righteous has already run away with their loot!
Featuring widescreen transfers and 5.1 Dolby Digital audio, both versions will contain the same bonus features. Look for a Commentary Track with writer/director David Talbert on the disc, as well as Deleted Scenes with optional commentary. Also included is a Gag Reel, Tiffany Pollard Outtakes and Katt Williams Outtakes. As another extra, the release will contain David Talbert's Camera Wrap Speech and the Featurette "Hood Robbin' with the First Sunday Cast and Crew." A Trivia Track will round out the release.
The DVD version will carry a $28.95 price tag, while the Blu-Ray version goes for $38.96 when it arrives on May 6.