Enter Sharkwater in April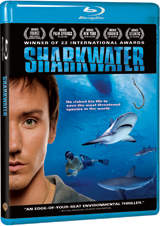 Warner Home Video is currently putting the final touches to a DVD version of Sharkwater, a visually spectacular and moving documentary that debunks the man-eating monster stereotype, revealing the reality that sharks – pillars in the evolution of the seas – are being dangerously over fished and brutally slaughtered.
Filmmaker Rob Stewart has had a life-long fascination with sharks. Driven by his passion for the magnificent creatures, the filming of "Sharkwater" began as an underwater adventure, but became a journey to preserve the balance of life on earth. Filmed on high definition video, "Sharkwater" showcases gorgeous underwater footage, taking the viewer into the shark rich waters of Cocos Island, Costa Rica and the Galapagos Islands, Ecuador. Stewart exposes the exploitation and corruption surrounding the world's shark populations, and shows that human greed could easily destroy their population within our lifetimes. But the exposé came with a price. During filming, Stewart and his crew faced pirate boat rammings, gunboat chases, mafia espionage, and attempted murder charges, and Stewart himself was threatened with not one, but several life-threatening illnesses. Stewart's mission to save the world's sharks quickly turned into a fight for his life, and ultimately, for that of humankind.
The film will be released on DVD and Blu-Ray Disc, offering the 90-minute documentary alongside with a number of great supplements. As extras you will find an Interview with filmmaker Rob Stewart on the release, as well as the Vintage Naval Training Video "Shark Defense", a Virtual Underwater Gallery, TV Spots and the film's Theatrical Trailer.
The DVD version will also include the 16-minute Featurette "Sharkwater: Beneath the Surface", while the Blu-Ray version will contain the 24-minute Featurette "Making of Sharkwater".
"Sharkwater" will reveal the truth on April 8 and can be yours to own for $19.98 on DVD and $28.99 on Blu-Ray.