Dirty Harry reappears in June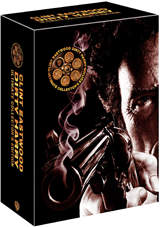 Warner Home Video has announced plans to release a Dirty Harry Ultimate Collection Boxset in May also.
Containing all five of Clint Eastwood's "Dirty Harry" movies in a single 7-disc box set, this release will also contain a bonus disc called "Clint Eastwood: Out of the Shadows" as well as tons of bonus materials.
We will keep you posted when more information comes in, but for now, mark June 3 in your calendars and set aside $74.92 for this release.