Cloverfield goes on a rampage in April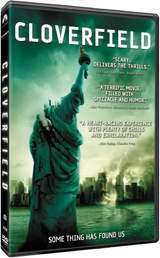 Paramount Home Entertainment has just announced plans to release the monster movie Cloverfield on DVD in April.
Five young New Yorkers throw their friend a going-away party the night that a monster the size of a skyscraper descends upon the city. Told from the point of view of their video camera, the film is a document of their attempt to survive the most surreal, horrifying event of their lives.
The DVD version will feature the movie in its original widescreen presentation complete with Dolby Digital 5.1 audio tracks in English and French. The release will contain a large number of bonus materials, including a Commentary Track by director Matt Reeves. And a selection of 6 Deleted Scenes including 2 Alternate Endings.
Further the release will offer up a good number of Featurettes such as "The Making of Cloverfield," "Cloverfield Visual Effects," "I Saw It! It's Alive! It's Huge" and "Clover Fun". The studio has also indicated that the DVD will be filled to the rim with Hidden Features.
The path of destruction and mayhem of "Cloverfield" can be yours on April 22 for $29.99. No high definition version of the film has been announced yet.