Chicken Robot: Star Wars makes the leap to DVD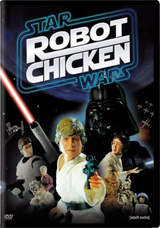 Warner Home Video has announced plans to bring the Adult Swim movie Chicken Robot: Star Wars to DVD in July.
Featuring the Voices of "Star Wars" creator George Lucas and guests Conan O'Brien, Seth MacFarlane, Hulk Hogan and others, this film is an homage to one of the biggest adventure sagas in cinematic history.
Brazenly combining the satirical style of Seth Green and Matthew Senreich's Stoopid Monkey Productions and the creative team at ShadowMachine, headed by Alex Bulkley and Corey Campodonico, and inspired by the unforgettable moments and favorite characters of the Star Wars galaxy, the "Robot Chicken: Star Wars" special intertwines the staples of George Lucas's universe with "yo' momma" battles, spoofs on George Dubya, and besotted fanboys.
The DVD will also be packed with bonus materials, such as Chicken Nuggets, a Sketch by Sketch Video Commentary, Animation Meeting and On-Air Bumps. Also included are Deleted Scenes and a Behind-the-Scenes Featurette as well as Time Lapse Sequences and Alternate Audio. Further, look for a Photo Gallery, footage from the Star Wars Celebration IV Convention Panel Presentation, a Production Design Featurette and an Episode Commentary that runs over two hours. The disc will be rounded out by the film's Trailer.
For only $14.95, "Robot Chicken: Star Wars" will arrive in stores on July 22, so you had better mark your calendar.