BBC's Robin Hood swings to Blu-ray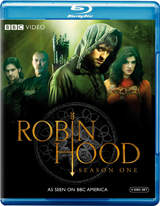 Kevin Costner aside, Robin Hood is a British hero through and through, the current BBC series has already shown up on DVD here in the States, but the first season of the 2006 series is coming to Blu-Ray Disc in July.
People's hero, war hero, romantic hero and leader of the world's most famous resistance group…Robin Hood is known and loved by millions around the world. His fight against a corrupt government and greedy officials is something we all can connect with. Fun, modern and intelligent, the BBC's Robin Hood is guaranteed to appeal to today's sophisticated viewers and is set to be as popular as the new Doctor Who. Sharp, witty scripts by Dominic Minghella and a striking new look set the tone as the BBC updates this popular legend for all the family.
All thirteen episodes will be available on a 4-disc BD-25 set which arrives July 29th – the same day the second season arrives on good old-fashioned DVD. (The second season premieres on BBC America in April).