27 Dresses arrives in April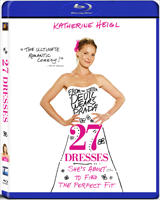 20th Century Fox Home Entertainment is bringing 27 Dresses to DVD and Blu-Ray Disc in April.
Katherine Heigl lights up the screen in this charming romantic comedy from the screenwriter of The Devil Wears Prada. Heigl stars as Jane, a romantic, completely selfless woman who's been a happy, helpful bridesmaid no less than 27 times. But her own fairytale wedding seems to be nowhere in sight. Until younger sister Tess captures the heart of Jane's boss – with whom she's secretly in love – inspiring Jane to change her "always a bridesmaid" destiny.
The DVD version will feature a widescreen and a pan&scan version of the movie with Dolby Digital 5.1 audio. As extras you will find a series of Featurettes on the release, covering topics such as "The Wedding Party," "You'll Never Wear It Again," "Jane's World" and "The Running of the Brides." Also included is a selection Deleted Scenes.
The Blu-Ray version will contain a 1080p transfer of the film as well as all of the bonus materials mentioned above.
"27 Dresses" will be in stores on April 299 for you to own.