This dysfunctional comedy makes you Dead Cool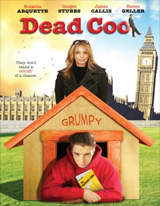 MTI Home Video has just announced plans to release Dead Cool on DVD in March.
The film is the story of modern family relationships, as seen through the eyes of 15 year-old David (Steven Geller). Six years after his dad (James Callis) dies in a car crash, David's mum (Imogen Stubbs) moves in with the new man (Anthony Calf) in her life. As the two families come together – complete with teenage step brothers and sisters, a crushingly acerbic granny (Liz Smith) and one feisty, American self-help guru ex-wife (Rosanna Arquette) – David has fantasies of his father's ghost returning to disrupt the new step-family and test its survival.
The DVD will feature an anamorphic widescreen presentation of this indie-comedy with a 5.1 channel Dolby Digital audio track. As the only extra you will find the film's Trailer on the disc.
"Dead Cool" arrives in stores on March 18 for $24.95.