The Shield delivers Season 5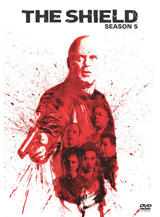 Sony Pictures Home Entertainment has added The Shield: Season 5 to their release schedule and attached a March release date to it.
"Conscience is a killer" is the catchphrase that made season 5 of The Shield the most intense season of the series to date. These 11 tightly scripted episodes comprise the first half of a 21-episode arc, with series creator Shawn Ryan referring to the sixth season (broadcast in 2007) as "Season 5.1." This is The Shield at its finest, culminating in a climactic 11th episode ("Postpartum") that ricochets the series toward a complex range of dramatic complications. Jumping the shark? Not a chance, pal–not when you've got soon-to-be Oscar-winner Forest Whitaker in his outstanding guest-star role as Det. John Kavanaugh, the upright, tormented Internal Affairs cop determined to destroy Det. Vic Mackey (Michael Chiklis) and his corrupt LAPD Strike Team.
The 4-disc DVD set will feature all fifth season episodes of the TV show, each episode with an optional Commentary Track. Also look for the Featurette "Delivering the Baby: Making of Episode 511." Also included in the DVD set are a selection of 25 Deleted Scenes with optional commentary. The Season 6 Prequel is also included on the disc set, as well as the Minisode "Dilbert: The Return" and the Minisode "Fantasy Island: Sitting Duck"
"The Shield: Season 5" arrives on March 25 and can be yours for $49.95.