The Diving Bell And The Butterfly arrives in April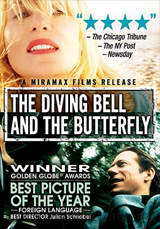 The title may sound like a Hong Kong movie, but in reality, The Diving Bell And The Butterfly is a French production that has held critics and moviegoers spellbound since it made its first appearance last year.
Acclaimed director Julian Schnabel, and the screenwriter of "The Pianist" bring you a remarkable and inspiring true story about the awesome power of imagination. Experience the triumphant tale of renowned editor Jean-Dominique Bauby, a man whose love of life and soaring vision shaped his will to achieve a life without boundaries. You'll soon discover why David Benby of The New Yorker calls "The Diving Bell And The Butterfly" "nothing less than the rebirth of the cinema."
Buena Vista Home Entertainment will release the movie in its 1.85:1 widescreen aspect ration in an anamorphic transfer, complemented by the original French Dolby Digital 5.1 language track and English subtitles. No extras have been announced.
Make room on your shelf for "The Diving Bell And The Butterfly" when it arrives on April 29 with a $29.99 sticker price.