Sony unleashes Walk Hard: The Dewey Cox Story in April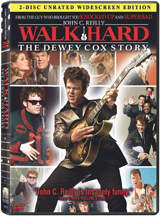 Sony Pictures Home Entertainment has announced an April release of the comedy Walk Hard: The Dewey Cox Story on DVD, UMD and Blu-Ray Disc.
One of the most iconic figures in rock history, Dewey Cox (John C. Reilly) had it all: the women (over 411 served), the friends (Elvis, The Beatles) and the rock "n" roll lifestyle (a close and personal relationship with every pill and powder known to man). But most of all, he had the music that transformed a dimwitted country boy into the greatest American rock star who never lived. A wild and wicked send-up of every musical biopic ever made, Walk Hard: The Dewey Cox Story is gut-busting proof that when it comes to hard rocking, living and laughing, a hard man is good to find.
The film will make it to DVD in two separate versions. The fist one is a single-disc DVD featuring the theatrical cut of the film. As extras you will find a Commentary Track with John C. Reilly, Judd Apatow, and Director Jake Kasdan on the disc as well as 8 Full Song Performances, Deleted & Extended Scenes and Line-O-Rama, as well as the Featurettes "The Music of Walk Hard" and "The Real Dewey Cox (Talkin' Bout Cox)."
Then there will be an Unrated 2-disc version which will contain the theatrical cut of the movie with all the extras mentioned above, as well as an unrated on the second disc. In addition that disc will also contain even more Extended & Deleted Scenes, 8 Additional Full Song Performances, A Christmas Song From Dewey Cox and a Cox Sausage Commercial with Outtakes. Song Demos and a Making Of Featurette are also included on this second disc, as well as The Last Word With John Hodgman.
On the Blu-Ray Disc version fans will be treated to everything found on the 2-disc DVD, including the two cuts of the movie, both in 1080p high definition with Dolby Digital 5.1 TrueHD audio tracks.
A UMD version of the movie for the Playstation Portable (PSP) will also be available, featuring the film's theatrical cut with no extras.
"Walk Hard" will come to stores on April 8. The single-disc DVD will carry a $19.95 price tag, the 2-disc DVD will come with a $22.95 price tag, the Blu-Ray version with a $28.95 minimum advertised price.