Sea Monsters take you back in time in June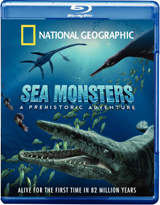 Warner Home Video and National Geographic will take you to the past in their documentary Sea Monsters, slated for a DVD and Blu-Ray Disc release in June.
For nearly 200 million years while dinosaurs roamed the Earth, the seas teemed with some of the most awe-inspiring ocean creatures of all time. Sea Monsters, a National Geographic Giant Screen film, is an entertaining journey into prehistoric oceans. Inter-cutting between the animated story and the reenactments of fossil discoveries combine the appeal of "Indiana Jones" with the CGI that brings these prehistoric monsters to life. Perfect for the whole family.
Sadly, no technical specs and bonus materials have been announced at this time.
The DVD Version will carry a $19.98 price tag, while the Blu-Ray version comes with a $28.99 sticker price, when the film arrives in a store near you on June 24.