Relive the Holocaust in May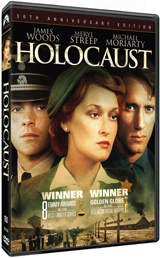 I have been waiting for the pats 10 years for this film to make it to DVD and finally I can announce its impending arrival. Paramount Home Entertainment has just unveiled plans to release Holocaust in May.
This film is an original TV dramatization of one of the most monstrous crimes in world history – the slaughter of 6 million Jews by the Nazis. Dramatically and definitively, the story covers an entire decade, the eventful years from 1935 to 1945. Holocaust focuses on the tragedy and triumph of a single family – the Weiss family. Their story is told in counter-poise to that of another fictional family, that of Erik Dorf, who portrays a Nazi aide to Germany's infamous Heydrich. Starring a brilliant international cast that includes James Woods, Meryl Streep, Ian Holm and Michael Moriarty, and filmed on location in Berlin and Vienna, this is a film that will not leave you untouched.
Paramount will release "Holocaust" in its full 464-minute running length in its original fullframe presentation with the original mono audio track in Dolby Digital. No extras will be included.
"Holocaust" will come back to haunt you on May 27 on 3-discs and can be yours for $29.99. Sadly no high definition version has been planned.