Power up the Omnitrix in April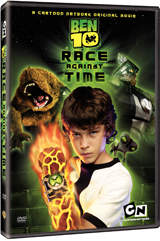 Warner Home Video has just announced the release of the live-action movie, Ben 10: Race Against Time in April.
Based on the "Ben 10" cartoon series, the film premiered in the Cartoon Network last November to nearly four million viewers. The movie, directed by Alex Winter (Bill & Ted's Excellent Adventure) and starring Graham Phillips (Evan Almighty) as Ben and Haley Ramm (X-Men 3) as Gwen, along with the legendary Lee Majors (The Six Million Dollar Man) as Grandpa Max, who uses his past experiences with the paranormal to guide and protect his grandchildren through their many adventures in fighting evil.
The DVD will feature the movie as well as some cool extras, such as Behind-the-scenes Footage, Bloopers, Outtakes and Interviews.
"Ben 10: Race Against Time" will fire up the Omnitrix on April 8 for $14.97.