Paramount Home Entertainment sends Matlock to court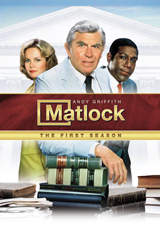 We just got detailed information about Paramount Home Entertainment's plans to finally release the beloved courtroom TV drama Matlock on DVD in April.
Anchored by the folksy performance of television legend Andy Griffith, "Matlock" this hit series portrays the cases of the Atlanta defense attorney who investigates crimes and fights for his clients, usually clinching a last-minute "Not Guilty" verdict. And Mr. Matlock is always aided by loyal partner and daughter Charlene (Linda Purl) and smooth private investigator Tyler Hudson (Kene Holliday). Don't let the rumpled seersucker suit fool you: under that good-ole-boy demeanor lies a brilliant legal mind.
This Season 1 DVD set will consist of 7-discs containing all 24 episodes of the show's first season. It will also include the 2-hour TV Movie "Diary Of A Perfect Murder" that introduced the character of Ben Matlock. The series will be presented in its original fullframe version with Dolby Stereo audio. The DVD set will sadly contain no bonus materials.
"Matlock" will solve his first cases on April 8 and you can take them home for $49.99.