Master & Commander back on track for Blu-Ray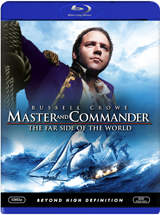 After a number of release date postponements, the Russell Crowe high seas adventure Master & Commander: The Far End Of The World is finally back on track for a May release on Blu-Ray Disk.
After a sudden attack by a French warship inflicts severe damage upon his ship, Captain "Lucky" Jack Aubrey (Russell Crowe) of the British Navy is torn between duty and friendship as he embarks on a thrilling, high-stakes chase across two oceans to capture or destroy the enemy at any cost.
Featuring an AVC-encoded 1080p transfer of the movie that will be complemented by a DTS 5.1 HD Master audio track, the disc will also contain Deleted Scenes, the movie's Theatrical Trailer in high definition as well as a Historical and Geographic Trivia Track and an interactive Geographic Pop-up Map that tracks the location of Captain "Lucky" Jack Aubrey and his enemies over the course of the film.
Hopefully for real this time, "Master & Commander" should be in stores on May 13 for $39.98.