Look out for The Invaders arriving in May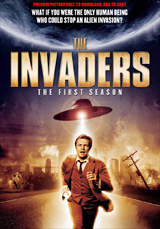 Paramount Home Entertainment has just announced the release of The Invaders: The First Season in May, bringing this classic 1967 TV series to DVD for the first time.
David Vincent (Roy Thinnes) knows that The Invaders, alien beings from a dying planet, have arrived to take over the Earth! To make matters worse, the aliens know who he is, and most of the time where he is. Somehow he must convince a disbelieving world that the nightmare has already begun.
Coming in its original fullframe presentation with Dolby Digital mono audio, the 5-disc DVD set will contain all episodes of the show's first season, but no extras will be included.
"The invaders" will be in stores on May 6 with a $42.99 sticker price.