In The Name Of The King arrives in April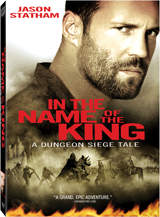 Derived from the "Dungeon Siege" computer game series, 20th Century Fox Home Entertainment has announced the arrival of In The Name Of The King on DVD in April.
The harrowing journey begins as a hardworking family man becomes a reluctant warrior after an evil sorcerer sends an army of murderous beasts to ransack his peaceful village and capture his wife. Set against some of the most rugged and breathtaking terrain ever captured on film, In The Name of the King: A Dungeon Siege Tale stars one of today's most in-demand action heroes Jason Statham and was directed by Uwe Boll, renowned for transforming video games into original onscreen adventures.
The DVD will contain a widescreen presentation of the movie in anamorphic widescreen with Dolby Digital 5.1 audio. In addition you will find Deleted & Extended Scenes on the disc, as well as a Behind-the-scenes Featurette and the movie's Trailers.
"In The Name Of The King" will be available in stores on April 15 and can be yours for $27.98. No high definition version has been announced as of yet, but we would be surprised if a Blu-Ray version would not be in production as we speak.