Gattaca returns with extras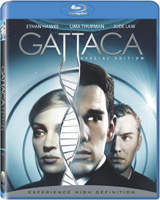 Sony Pictures Home Entertainment has scheduled a new release of the science fiction thriller Gattaca for March, coming to both, DVD and Blu-Ray Disc.
Ethan Hawke, Uma Thurman, Alan Arkin and Jude Law star in this engrossing sci-fi thriller about an all-too-human man who dares to defy a system obsessed with genetic perfection. Hawke stars as Vincent, an "In-Valid" who assumes the identity of a member of the genetic elite to pursue his goal of traveling into space with the Gattaca Aerospace Corporation. However, a week before his mission, a murder marks Vincent as a suspect. With a relentless investigator in pursuit and the colleague he has fallen in love with beginning to suspect his deception, Vincent's dreams steadily unravel.
The DVD version of the film, presented in anamorphic widescreen with 5.1 Dolby Digital audio, will also include a selection of Deleted Scenes and a Substance Test Outtake. Welcome to Gattaca is a Featurette that will be included on the disc, as well as the Documentary "Do Not Alter?".
The Blu-Ray version will come in a 1080p widescreen transfer with Dolby Digital TrueHD audio tracks. It will contain all the same extras as the DVD version.
"Gattaca" will land on store shelves on March 11 for $19.96 on DVD, and $28.95 on Blu-Ray Disc.