Criterion examines The Last Emperor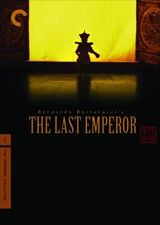 Bernardo Bertolucci's fascinating The Last Emperor has been plagued by substandard DVD releases for countless years. Finally, Criterion will be visiting this film with a new anamorphic widescreen transfer and an all around complete DVD.
The film tells the touching story of the life of emperor Pu Yi, who took the throne at age three, in 1908, before witnessing decades of cultural and political upheaval, within and outside of the walls of the Forbidden City. Recreating Qing-dynasty China with astonishing detail and unparalleled craftsmanship by cinematographer Vittorio Storaro and production designer Ferdinando Scarfiotti, The Last Emperor is also an intimate character study of one man reconciling personal responsibility and political legacy.
Both versions of the film will be available along with an audio commentary, and four hours of documentaries on the film. Interviews and a photo gallery will also be included.
Of course, being a Criterion title has its literal price. The disc will be priced at $59.95 when it arrives on February 26th. The spine number is 422 for the 4-disc set.