Angélique turns heads on DVD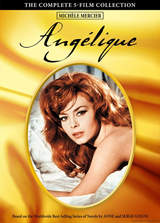 Lionsgate Home Entertainment has announced plans to release a DVD set containing all five Angélique movies. Angélique: The Complete 5-Film Collection will arrive in late April for fans of these scintillating, romantic adventures.
Based on the best-selling French novels by Anne and Serge Golon that captured hearts worldwide, the Angélique films chronicle the life of an adventurous heroine in the Louis XIV era. Five classic film adaptations star the beautiful Michele Mercier and the dashing Robert Hossein as her husband and true love. A swashbuckling blend of action, intrigue and passion, the Angélique films seamlessly capture the amazing life of a French country girl whose quest for love and happiness leads her from the gutters of Paris to the Palaces Versailles.
The 3-disc DVD set will contain the movies "Angélique," "Angélique: Road To Versailles," "Angélique And The King," "Untamable Angélique" and "Angélique And The Sultan." Each film will be presented in its original aspect ratio, but no extras have been announced.
The "Angélique" box set will be in stores on April 29 with a $39.99 price tag attached.