Alvin, Simon and Theodore are coming back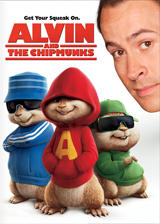 Twentieth Century Fox Home Entertainment is getting Alvin and the Chipmunks bacl together for a two disc DVD and Blu-ray of the film with plenty of extras.
Struggling songwriter Dave Seville opens his home to a talented trio of chipmunks named Alvin, Simon and Theodore, they quickly become overnight music sensations. But when a greedy record producer tries to exploit the musical ensemble, Dave must use a little human ingenuity—and a lot of 'munk mischief—to get his furry family back before it's too late!
The discs are getting a little multimedia. In addition to the film in anamorphic widescreen, the DVD will include three Featurettes and a Music Video and a peek at Horton Hears a Who, but it will also contain a digital copy of the film which can be copied to a PC or Mac and imported into iTunes along with two iTunes songs from the soundtrack. A single disc version of the film will be available with the film in widescreen and fullscreen and will only contain the featurettes. The Blu-ray version will also only include the digital download and featurettes.
April Fools Day is the street daye. The single disc DVD will sell for $29.98, the two disc version for $34.98 and the Blu-ray for $39.98.