You can Own The Night in February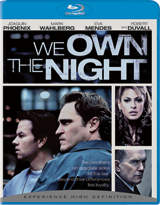 Sony Pictures Home Entertainment unveiled details about the upcoming release of We Own The Night in February.
What if your own family stood in the way of everything you worked for? Bobby Green (Joaquin Phoenix) has forsaken his name to escape his family and their tradition in law enforcement to pursue his ambitions as a Brooklyn nightclub owner. As he turns a blind eye to the drug dealers around him, he comes face to face with the family he abandoned when his brother (Mark Wahlberg) and father (Robert Duvall) crack down on the club. Now Bobby must choose a side. Is he going to turn informant or will he help run the biggest crime ring in New York history?
The DVD version will offer an anamorphic widescreen transfer of the thriller movie, complete with 5.1 Dolby Digital audio tracks in English, French and Spanish. As extras you will find a Commentary Track by writer and director James Gray on the disc, as well as a Featurette called Police Action: Filming Cops, Cars, and Chaos. Also look for the Featurette A Moment In Crime: Creating Late 80's Brooklyn.
You will find the same extras on the Blu-Ray Disc version of the movie, but with a 1080p high definition transfers and improved Dolby TrueHD audio tracks.
As expected, the UMD version will feature a widescreen version of the film with stereo audio tracks and no bonus features.
"We Own The Night" arrives on February 12 and will carry a $28.95 sticker price for the DVD version, a $38.96 price tag for the Blu-Ray version and $24.94 for the UMD version.