The Hitman sets his sights on you in March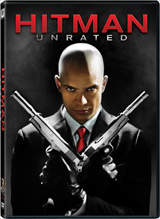 20th Century Fox Home Entertainment has announced details about the upcoming DVD and Blu-Ray Disc release of the action thriller Hitman, scheduled for March.
Adapted from the video game of the same name, in "Hitman, " a top assassin known only as Agent 47 (Olyphant) is hired by a covert organization "The Agency" to kill targets for cash. He later becomes ensnared in a political conspiracy that finds him pursued by both Interpol and the Russian military as he treks across Eastern Europe.
The DVD version will feature the theatrical version of the film in both full screen and widescreen formats. In addition an unrated version of the film in widescreen is also sold as a separate DVD. The discs will feature 5.1 DTS audio tracks and include Four Deleted Scenes and an Alternate Ending.
A 2-disc Unrated Special Edition DVD will also be sold with additional extras, such as a selection of Featurettes and a Gag Reel as well as a digital copy of the movie, allowing you to transfer the film in full DVD quality to your desktop computer or one of many mobile devices, such as the iPhone, iPod and other video players.
The Blu-Ray version of the movie will also come as a 2-disc edition, featuring the unrated cut of the movie with an English DTS 5.1 HD Master audio track and Dolby Digital Plus language tracks in French and Spanish. The release will contain all the same extras that are found on the 2-disc DVD version also, including the digital copy DVD version on the second disc.
"Hitman" takes aim on March 11 and cane be yours for $29.98 as a single-disc DVD, $34.98 as a Special Edition DVd or $39.98 on Blu-Ray.