The Golden Compassarrives in April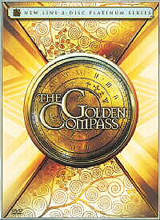 New Line Home Entertainment has just announced details about their upcoming release of The Golden Compass, scheduled for April on DVD and Blu-Ray Disc.
In a parallel universe where witches rule the skies and armored bears are the bravest warriors, young Lyra Belacqua journeys from her home among the scholars at Oxford to the far North to save her best friend. Based on the first book in the Carnegie Medal-winning series, His Dark Materials.
The DVD version will be presented in its 2.35:1 widescreen aspect ratio with a Dolby Digital 5.1 EX and a Dolby Surround audio track in English. It will contain a Commentary Track by director Chris Weitz and a large selection of Behind-the-scenes Featurettes. Also included will be Galleries and Trailers.
The Blu-Ray version will boast a glorious 1080p high definition transfer and a 7.1 channel DTS HD Master Audio track, as well as a Dolby Digital Plus EX track, both of them sure to rock your living room. The disc will contain the same extras as the 2-disc DVD version but in addition you will also find a Video Commentary on the release.
The film will be available on April 29 with a suggested retail price of $28.98 for the standard DVD, $34.98 for the Platinum Edition DVD and $39.98 for the Blu-Ray Disc.