The Bionic Woman goes digital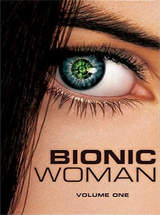 After much hype, NBC's Bionic Woman disappeared along with the rest of television this year. But the series will come to DVD in Bionic Woman: Volume One (who's title implies the series will return in the future).
Jaime Sommers is nothing but a hard-working woman juggling work as a bartender, the responsibility for the care of her younger sister, Becca, and her relationship with her boyfriend, Will. Jaime has always enjoyed being as normal as any other human being. However, this all changes when she is hit by a car and seriously injured. Her only hope becomes an experimental and top secret procedure, but, as Jaime soon discovers, this salvation comes at a high price.
The set will include episodes of the series along with an audio commentary on the first disc and four featurettes.
The whole set arrives on March 18th for $29.98 on DVD only.