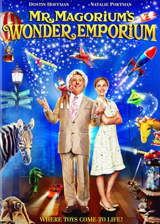 Twentieth Century Fox Home Entertainment is preparing a DVD and a Blu-Ray release of Mr. Magorium's Wonder Emporium later this spring.
For centuries the eccentric 243-year-old Mr. Magorium has owned and operated the incredible store, but when he announces that he will be handing over the reigns to his reluctant young manager Molly, the store throws a tantrum turning everything extraordinary to just plain ordinary. In order to restore order to this whimsical store, Molly must learn not only to believe in her abilities, but also to find the magic within.
The DVD will contain the Featurettes Strangely Weird and Weirdly Strange: The Magical World of a Wonder Emporium, An Eccentric Boss and An Akward Apprentice, To Meet Eric Applebaum, Start By Saying Hi and The Magical Toy Store.
The Blu-Ray version will contain the featurettes in high def and will be authored in BD-Java with AVC MPEG-4 on a dual-layer 50GB disc with English 5.1 DTS HD Lossless and Dolby Digital 5.1 sound.
The disc arrives on March 4th. $29.98 for the DVD and $39.98 for the Blu-Ray Disc.