Michael Clayton cleans up his act in February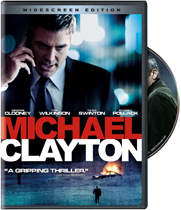 Warner Home Video has unveiled dates and details for the upcoming home video release of the George Clooney thriller Michael Clayton, scheduled for release on DVD, HD-DVD and Blu-Ray Disc in February.
Attorney Michael Clayton is a "fixer, " the go-to guy when his powerful New York law firm wants a mess swept under the rug. But now he's handed a crisis even he may not be able to fix. The firm's top litigator in a $3-billion case has gone from advocate to whistleblower. And the more Michael tries to undo the damage, the more he's up against forces that put corporate survival over human life – including Michael's.
The DVD version will feature an anamorphic widescreen version of the film with 5.1 Dolby Digital audio in English, French and Spanish. As extras a selection of Additional Scenes and a Commentary Track with director Tony Gilroy and editor John Gilroy is also included.
The HD-DVD version will feature a 1080p transfer complemented by 5.1 Dolby Digital plus audio tracks in English, French and Spanish. The extras will be the same as those on the DVD version, and the release will be a combo disc, containing the complete DVD version of the film on the disc's flip side.
The Blu-Ray version will also contain the same extras and offer up a 1080p widescreen transfer with 5.1 Dolby Digital plus audio tracks in English, French and Spanish.
"Michael Clayton" will be in stores on February 19. The DVD will carry a $29.98 price tag, the high definition versions will go for $35.99. The HD-DVD version however will arrive on March 11, 3 weeks after the other versions.