MGM Home Entertainment brings you the Billy Wilder Collection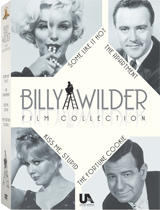 MGM Home Entertainment has just announced plans to bring a Billy Wilder Collection to DVD in March. Featuring "The Apartment Special Edition, " "The Fortune Cookie," "Kiss Me Stupid!" and "Some Like It Hot Collector's Edition" the DVD collection will give you the chance to own all three films at a low price.
Winner of five 1960 Academy Awards®, including Best Picture, The Apartment is legendary writer/director Billy Wilder at his scathing, satirical best, and one of "the finest comedies Hollywood has turned out" (Newsweek). C.C. "Bud" Baxter (Jack Lemmon) knows the way to success in business… it's through the door of his apartment! By providing a perfect hide away for philandering bosses, the ambitious young employee reaps a series of undeserved promotions. But when Bud lends the key to big boss J.D. Sheldrake (Fred MacMurray), he not only advances his career, but his own love life as well. For Sheldrake's mistress is the lovely Fran Kubelik (Shirley MacLaine), elevator girl and angel of Bud's dreams. Convinced that he is the only man for Fran, Bud must make the most important executive decision of his career: lose the girl… or his job.
Powered by Walter Matthau's Oscar®-winning performance as the quintessential all-American chiseler, The Fortune Cookie is a hysterically funny comedy that showcases filmmaker BillyWilder at his uproarious best. Harry Hinkle (Jack Lemmon) is one lucky guy! When he's accidentally clobbered by a 220-pound halfback, all Harry suffers is a slight concussion. All, that is, until Whiplash Willie (Matthau)a legal scoundrel of the first orderarrives on the scene! For if Harry follows shyster Willie's advice and feigns a crippling injury, the two charlatans can split a cool million in phony insurance claims. But can Willie's world-class finagling dispel those ominous words that lie within the fortune cookie on Harry's hospital plate: You can't fool all of the people all of the time?
In Kiss Me Stupid! Dean Martin is full of charm, wit and snappy one-liners. It is a 'sly, irreverent, brash and daring comedy (The Film Daily) from the legendary team of Billy Wilder and I. A. L. Diamond! When world-renowned singer Dino (Martin in a hilarious self-parody) passes through Climax, Nevada, he doesn't count on meeting two would-be songwriters with a plan to trap him there and serenade him with their songs.
Some Like It Hot takes you to Chicago where musicians Joe (Tony Curtis) and Jerry (Jack Lemmon) accidentally witness a gangland shooting. They quickly board a southbound train to Florida, disguised as Josephine and Daphne, the two newest and homeliest members of an all-girl jazz band. Their cover is perfect…until a lovelorn singer (Marilyn Monroe) falls for Josephine, an ancient playboy (Joe E. Brown) falls for Daphne, and a mob boss (George Raft) refuses to fall for their hoax! Nominated for 6 Academy Awards®, Some Like It Hot is the quintessential madcap farce and one of the greatest of all film comedies (The Motion Picture Guide).
All of the bonus materials will be carried over to these releases from their stand-along counterparts when the "Billy Wilder collection" hits stores on March 4 for $39.98.