Lions For Lambs will make you think in April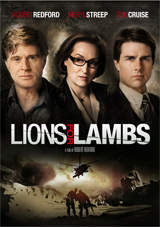 MGM Home Entertainment has announced plans to release Robert Redford's political thriller Lions For Lambs on DVD in April on DVD.
Robert Redford, Tom Cruise and Meryl Streep deliver "three knockout performances" (Vue Weekly) in this powerful, provocative thriller that explores the consequences of taking a stand. An idealistic professor (Redford) in California attempts to inspire a student to do more with his life, while a charismatic Senator (Cruise) in Washington D.C. pitches a new Middle East war strategy to a probing TV journalist (Streep). And halfway across the world, two of the professor's former students are trapped behind enemy lines in Afghanistan, fighting for freedom—and their very lives. As the tension mounts and the bullets fly, these Americans will change each other's lives and the world in ways they never could have imagined.
The DVD will feature a widescreen presentation of the movie and also come with a Commentary Track by director Robert Redford. Three Featurettes will also be included, carrying titles such as "The Making Of Lions For Lambs," "Script To Screen" and "United Artists Legacy". The disc will be rounded out by the movie's Theatrical Teaser and Trailer.
"Lions For Lambs" will be in stores on April 4 with a $29.98 sticker price.