Independence Day arrives on Blu-Ray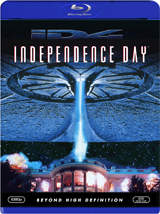 20th Century Fox Home Entertainment is putting the final touches to a Blu-Ray version of Roland Emmerich's Independence Day.
The movie starring Will Smith delivers the ultimate encounter when mysterious and powerful aliens launch an all-out invasion against the human race. The spectacle begins when massive spaceships appear in Earth's skies. But wonder turns to terror as the ships blast destructive beams of fire down on cities all over the planet. Now the world's only hope lies with a determined band of survivors, uniting for one last strike against the invaders – before it's the end of all mankind.
The movie will be presented in a 1080p transfer that is supplemented with a 5.1 DTS HD Master audio track as well as Dolby Digital 5.1 Plus tracks. The disc will be jam-packed with materials and will use Blu-Ray's BD-Java from some highly interactive supplements, such as a Alien Scavenger Hunt Game. But also a Commentary Track by director Roland Emerich and producer Dean Devlin will be included as well as Commentary Track by Oscar-Winning FX supervisors Volker Engel and Doug Smith, both of which were part of the DVD version. But also look out for a Trivia Track, Search Content and Personal Scene Selections as well as the movie's Teasers and Trailers.
"Independence Day" will be in stores on March 11 for $39.98.