Comanche Moon rises in February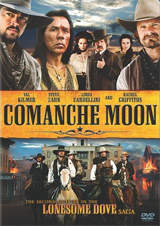 Sony Pictures Home Entertainment will release the second chapter of the "Lonesome Dove" saga as a 2-disc DVD in February.
"Comanche Moon – The Second Chapter in the Lonesome Dove Saga" follows Texas Rangers Gus McCrae (Steve Zahn) and Woodrow F. Call (Karl Urban) as they struggle to preserve the western frontier against the Comanche Indians. Both men battle with ever-increasing tension in their personal lives — Gus with his great love, Clara Forsythe (Linda Cardellini), and Call with Maggie Tilton, the young prostitute who loves him. New characters include Captain Inish Scull (Val Kilmer), a Yankee aristocrat and hero of the recently concluded Mexican War; Inez Scull (Rachel Griffiths), the Captain's sexy wife who doesn't hesitate to keep busy with other men while her husband's away from home; and Idahi, a Comanche ally of Chief Buffalo Humps (Wes Studi).
Two proud but very different men, McCrae and Call enlist with a Ranger troop in pursuit of three outlaws: Buffalo Hump, the great Comanche war chief; Kicking Wolf, the celebrated Comanche horse thief; and a deadly Mexican bandit king with a penchant for torture. Assisting the Rangers in their wild chase is the renowned Kickapoo tracker, Famous Shoes, plus their comrades-in-arms – Deets, Jake Spoon and Pea Eye Parker – in the bitter struggle against the defiant Comanches who are determined to defend their territory and their way of life.
The DVD set will feature a widescreen presentation of the mini-series with Dolby Digital audio and will also include a number of Featurettes, entitled "Behind the Scenes of Comanche Moon," "Riding Into the Sunset – Cowboy & Riding Training," and "A Look at the Comanche Heritage."
"Comanche Moon" can be yours for $29.95 on February 26.