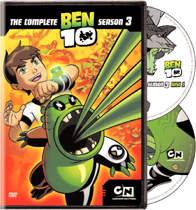 The Cartoon Network show Ben 10 is continuing its run on DVD when Warner Home Video will release the complete Season 3 on DVD in March.
Ben Tennyson was just an average 10-year-old kid – until he discovered a strange alien watch in a crashed meteorite. Called the Omnitrix, this watch gives Ben the ability to transform into any of 10 alien heroes, all the while keeping his 10-year-old personality.
The 2-disc DVD set will contain all 13 episodes from the show's third season and will also include Deleted Scenes, a Character Gallery and Promos. It can be yours for $19.98 when it comes to stores on March 4.