Anchor Bay throws Wrestlemaniac in the ring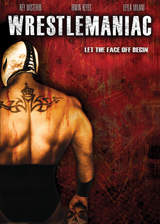 Anchor Bay Entertainment has announced a new movie to be released on DVD in March, a horror movie set in the world of wrestling – a story they call Wrestlemaniac. Starring wrestling diva Leyla Milani, horror film favorite Irwin Keyes (House of 1000 Corpses, Horror High) and legendary "luchadore" Rey Misterio, "Wrestlemaniac" has already developed a broad cult following and now "El Mascarado" is coming for you!
An amateur porn film crew traveling through Mexico takes a wrong turn in the middle of nowhere, ending up in the near-ghost town of La Sangre De Dios (Blood of God). Locals claim that the deranged wrestler 'El Mascarado' (Misterio), though long dead, returns to rip the faces off his victims. One by one, the cast and crew are snatched, beaten and dragged to a bloody death. The few left alive must figure out how to beat El Masacardo at his own game, or die trying. Ladies and gentlemen — the ultimate death match is about to commence!
Featuring an anamorphic widescreen transfer and 5.1 Dolby Digital audio, the sidc will also feature a number of cool bonus features, suc has a Commentary Track by first-time writer/director/editor Jesse Baget, director of photography Tabbert Filler and actor Adam Huss.
Also included a Making Of Featurette called "Wrestling The Maniac" and the movie's Trailer.
"Wrestlemaniac" will be available in stores on March 11 for $26.97.