Across The Universe arrives in February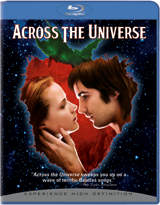 Sony Pictures Home Entertainment has announced details about the upcoming home video release of Across The Universe, which is scheduled for February on DVD, Blu-Ray Disc and UMD.
The enduring songs of The Beatles, set the tone for Across The Universe, a love story about a British boy and an American girl set against the backdrop of the social upheaval of the 1960s. The stirring music of the Fab Four will drive the narrative, with the actors singing and dancing to the classic tunes. The film is directed by acclaimed filmaker Julie Taymor and is a feast for the eyes with it's stunning color and cutting edge visual style. Evan Rachel Wood and Jim Sturgess play the young couple in love with supporting roles from Salma Hayek and Bono.
The DVD version will feature an anamorphic widescreen transfer of the 133-minute movie, complete with 5.1 Dolby Digital audio tracks in English, Spanish and Portuguese. As extras the 2-disc DVD will contain a Commentary Track with director Julie Taymor and music producer/composer Elliot Goldenthal.
Also included are Two Live Performances of "Being for the Benefit of Mr. Kite." Deleted Scenes and 5 Making-Of Featurettes are also included on the release, as well as an exclusive Photo Gallery.
The Blu-Ray Disc version will feature a 1080p high definition transfer with Dolby Digital TrueHD audio tracks and will include the same extras as the DVD version, except for the photo gallery. Instead this version will feature a Dos Nace Art Gallery with drawings form the film.
The UMD version will feature the widescreen version of the film with stereo audio tracks and no extras at all.
Look for "Across The Universe" in stores on February 5 for $28.96 on DVD, $38.96 on Blu-Ray and $24.94 on UMD.