Things We Lost In The Fire arrives in February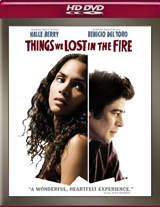 Dreamworks Home Entertainment has just announced the upcoming release of the drama Things We Lost In The Fire for DVD and HD-DVD in February.
Halle Berry and Benicio Del Toro star in this powerful new drama. Audrey Burke (Halle Berry) is reeling from the shock of the news that has just been delivered to her door by the local police: her warm and loving husband Brian (David Duchovny), the father of their two young children, has been killed in a random act of violence. Once anchored by the love and comforts of their 11-year marriage, Audrey is now adrift. Impulsively, she turns to Jerry Sunborne (Benicio Del Toro), a down-and-out addict who has been her husband's close friend since childhood. Desperate to fill the painful void caused by her husband's death, Audrey invites Jerry to move into the room adjacent to their garage in the hope that he can help her and her children cope with their sudden loss. Jerry is facing a daily battle to stay off drugs, but in his unexpected role as surrogate parent and friend to Audrey's son and daughter he finds a core of inner resilience. As Jerry and Audrey navigate grief and denial, their fragile bonds are constantly tested. Working together, however, they discover the strength to move forward.
The DVD version will feature an anamorphic widescreen transfer of the film with Dolby Digital 5.1 audio. The HD-DVD version offers a 1080p transfer of the film with a selection of Dolby Digital 5.1 Plus audio tracks. No bonus materials have been announced at this time.
"Things We Lost In The Fire" will be in stores on February 22 and can be yours for $29.99 on DVD, and $39.99 in high definition.