The Untouchables return for season two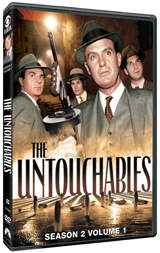 Paramount Home Entertainment has scheduled the next DVD set of The Untouchables for release in March.
This vintage series, set in Prohibition-era Chicago, pits the maverick lawmen known as "The Untouchables" against mobsters holding court against any and all challengers. Robert Stack stars as federal agent Eliot Ness, who was responsible for Al Capone's downfall.
Season Two: Volume One will contain the first 14 episodes of the show's second season on 4 discs in their fullframe aspect ratio.
The DVD set has been scheduled for March 18 and will carry a $42.99 sticker price.