The Heartbreak Kid breaks hearts over Christmas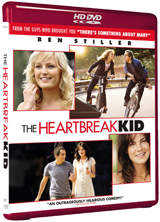 Paramount Home Entertainment will release The Heartbreak Kid on DVD and HD-DVD this Christmas.
Big laughs head south of the border in the Farrelly Brothers' newest twist on boy-meets-girl. When the single and indecisive Eddie (Ben Stiller) meets the sexy and beautiful Lila (Malin Akerman), the guy who could never pull the trigger jumps the gun. While honeymooning in Mexico, Eddie discovers he's made a really big mistake. He soon meets Miranda (Michelle Monaghan), his real soul mate. But when the love of your life isn't your wife, things can get quickly out of control. Now it will take some desperate measures to turn his honeymoon from hell into the perfect romantic getaway.
Both versions will contain the same bonus materials, namely a Commentary Track by the Farrelly Brothers and the Featurettes "The Farrelly Bros. In The French Tradition," "Ben & Jerry," "Heartbreak Halloween," and "The Egg Toss." Further you'll find a Gag Reel and Deleted Scenes on the release. The movie's Theatrical Trailer will also be included – in high definition on the HD-DVD version.
"The Heartbreak Kid" will be in stores on December 26 for $29.99 on DVD and for $39.99 on HD-DVD.