The first season of The Mod Squad rolls home in December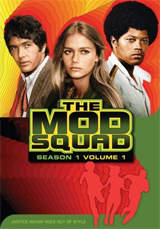 Paramount Home Entertainment will release the classic police drama The Mod Squad: Season One, Volume One on DVD in two weeks.
The groundbreaking CBS series makes its long overdue DVD debut with a 4-disc set that includes 13 episodes from the show's first season. "The Mod Squad" focused on three young undercover detectives bringing in the bad guys long before "21 Jump Street" stole all the credit. The set will include featurettes like Forming the Squad, Inside the Teeth of the Barracuda: 1968, and Friends of the Mod Squad.
The first volume of the first season is scheduled for December 18 and will set you back $42.99.